Super schnell
Sofortiger digitaler Download
Zuverlässig & sicher
Über 10.000 Spiele
Kundenservice
Menschlicher Support 24/7
Medien
Deathloop for PC is an action adventure game in which the player feels as though it's Groundhog Day, again. Taking many of the developer's best bits from their previous games, this game wraps them all up and makes it so much more fun to play and learn! About the Game You take the part of […]
Mehr anzeigen
Sprache
English
French
German
Italian
Medien
Sprache
English
French
German
Italian
Produktbeschreibung
Deathloop for PC is an action adventure game in which the player feels as though it's Groundhog Day, again. Taking many of the developer's best bits from their previous games, this game wraps them all up and makes it so much more fun to play and learn!
About the Game
You take the part of an assassin, named Colt, in the main game, in which there is a perpetual party going on at the end of the world. Set on the Island of Blackreef, which is based on the real life Faroe Islands in the 60s, the islanders party all night, resetting at midnight to the previous day – this means that they can do whatever they want to: they won't remember it and they will be fine!
However, Colt can and does remember, and it is his mission to end the party for once and for all. The island used to be an experimental army base, with an ultra-top-secret mission, called AEON, which was designed to pursue immortality. But the army is long gone and the inhabitants – long ago test subjects? Long-time residents? No one knows – or no one's saying – have long invested in the island, enjoying a carefree existence of the same 24 hours over and over again.
Colt's mission is to kill eight people in one twenty-four hour period in order to stop the programme resetting itself. If he has killed seven, and just one remains, the loop will reset and Colt will have to start from the beginning again. Much of the early part of the game will be spent tracking down and monitoring the eight, who are called the Visionaries (details below), to work out a killing plan that can be completed on time.
Colt uses stealth, parkour and attack, to get to and attack his victims, and he can kill using guns, melee attacks or the environment. However, there are slight changes to the loop, and not everything will play out exactly as before – but your main eight targets are creatures of habit, in the large. Except for Julianna.
In multiplayer mode, you become Julianna whose job it is to protect the time-loop and kill Colt. When you are playing as Julianna you can cross into someone else's game in which they are playing as Colt, giving real player against real player action which allows for unexpected and illogical behaviour.
If this sounds terrible when you are playing as Colt, you can toggle it off to prevent random strangers sabotaging your game. This does not get you all the way off the hook, however, AI Julianna will try and stop you. And, she has nothing to lose – for her the party will reset and she'll be back tomorrow, doing more of the same again – which is how she likes it! Be wary: Julianna can disguise herself as the other partygoers – including as Colt himself!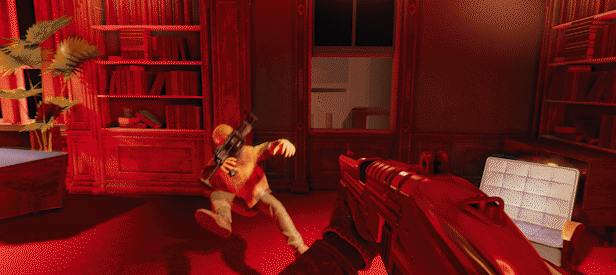 Extra Info
The game's developers describe it as 'inverted Cluedo', and the name is a good one. You must work out and implement how to commit eight perfect murders. It is not all against Colt though, as well as guns and firepower, he has supernatural powers, where he can push people over a cliff without actually touching them – Karnesis, as well as other powers, called Slabs, such as Aether, Telekinesis, Masquerade, and short-distance teleportation. There is a way to power up Colt permanently – but you will have to find that yourself!
In the game, Colt's stealth doesn't last long, it just gives him an opening edge to sneak up on enemies – beginning to attack will reveal you to them. In the gameplay, there are four time periods to the day, and four areas to explore. You can take your time and explore as the party moves to a set pattern.
The developers have a saying – if at first you don't succeed, die and die again! And, again, this is apt – the game is mildly roguelike in that you learn by dying, but each loop is a valuable learning curve and you can make different choices, go to different places and learn about all of your targets, before setting out to take them down in a final showdown.
Meet the Visionaries
The eight visionaries hold the secret to the loop, and even one of them surviving will mean that the loop continues and the others are restored to life. Track them through their days and make notes, before deciding on the best order to take them out. They are, as follows:
Julianna Blake – yep, the same one who is tasked with keeping the loop going. She's watching out for you, so make sure you watch for her!
Deathloop for PC is available for purchase on Instant Gaming for a fraction of its retail price. You will receive an official key and be able to play the game in seconds. Play smart. Pay less.
Dies könnte dir auch gefallen